Shopping Cart
Your Cart is Empty
There was an error with PayPal
Click here to try again
Thank you for your business!
You should be receiving an order confirmation from Paypal shortly.
Exit Shopping Cart
| | |
| --- | --- |
| Posted on August 9, 2015 at 6:20 AM | |
To create the best possible kids' & family magic show experience and maximize everyone's enjoyment of the performance, please take a moment to review these general Magic Show Party Success Tips and share them with anyone who will be helping you with your party: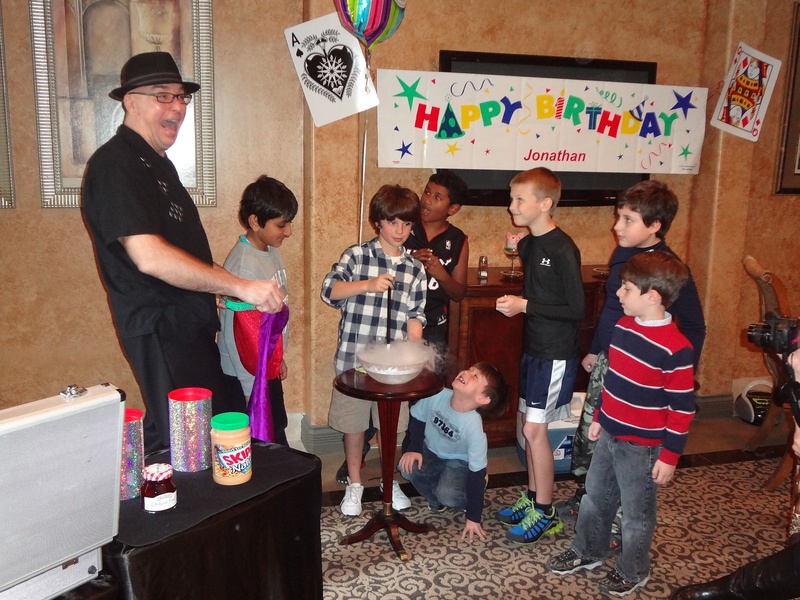 The performance area:
Set Up - I will arrive about one half hour before show time to set up my two small tables, one of which will support my briefcase and the other will display my magic props. ( Inevitably, children always love to talk with me before the show starts and of course I always end up doing a few "warm up" illusions for them. However, it's very helpful to keep the kids occupied with an activity away from the performance area while I set up to ensure the show can start on time. )
Distractions - Please avoid having visible or audible distractions such as other entertainers, TV's, bounce houses, games, food or activities or other entertainers behind or to the side of the performer.
Performance Area (The "Stage") - Select an area that limits and prevents guests walking into, through or behind the performance area during the show. A stage, wall or neutral background setting directly behind the performer works well.
Seating – Chairs and/or benches set up theater-style works best. Some clients prefer the kids to sit on the floor/ground/grass. In that case a picnic blanket might make them more comfortable. Either way, smaller children should sit in the front row so they can see better while the oldest children can sit towards the back rows.
Space – Please allow 4 feet in back of my magician's tables and 4 feet in front of the tables before the first row of the audience.
Ensuring a smooth show performance:
Audience Management & Preparation - Although I encourage participation and interact extensively with the audience, we all know that "kids will be kids" and for that reason. let's "Be Prepared." While I am setting up for the show, it might be a great idea for the client to talk with some of the older, more "loyal" kids. Let them know your expectations of respectful, considerate behavior and audience etiquette during their upcoming magic show with JULIUS MAGIC.
Few people fully realize that talking and conversations by anyone during the show distracts the audience and detracts from everyone's enjoyment. Parents, teens and adult guests can set a great example. Please encourage parents, teens and adult guests to watch and participate in the show along with the kids.
Small children - Please have parents monitor and restrain toddlers who might wander up "on stage" or be likely to run around in front of the performer.
Hands - Please ensure the children have nothing in their hands. Food, drinks, toys, balloons, noisemakers, and party gifts can be a big distraction. The kids will need empty hands when they come up on stage to assist the magician.
Food and drinks - If possible, please have the children eat either before or after the magic show.
Magician's volunteer assistants - Applaud & cheer loudly for the children (and adults) who volunteer & help perform magic "on stage" with Julius Magic.
Bounce House fans, air compressor pumps, Radio, Stereo, Music, & TV – If show is outdoors or on patio, please turn off "bounce house" fans and air pumps. Please turn off TV and music during the magic show.
Magician Introduction - Simply say: "Please welcome magician JULIUS MAGIC!"
Pictures and videos – Always welcome and a great idea to capture the wonderful magical moments forever. Please feel free to take photos with flash during and group photos after the magic show!
Please let me know if you have any additional questions and if there is anything else I can do to excellently serve you and your group.
Thank you in advance for helping to create the ideal magic show atmosphere and environment. I appreciate you!
Categories: Friends & Family Party Magic
Send Us The Form Below To:
Book Your Magic Entertainment

Whether your event is Months, weeks, days or hours away,

we would love to hear from you!

1 hour - [ up to 50 guests ] - $475
1 hour - [ 50 - 100 guests ] - $525
1 hour - [ 100+ guests ] - $575
1.5 hours - [ any # of guests ] - $625
2 hours - [ any # of guests ] - $775
3 hours - [ any # of guests ] - $975
/